There is a pop artist on the Polish music scene that captivates overly-sensitive millennials like no other. His influence and nearly-iconic status could be compared to the effect Tom Odell had on some Brits seven or eight years ago, or maybe Marina (this one) with the introduction of her Family Jewels at the beginning of the twenty-tens. His fans often compare him to Freddie Mercury and David Bowie.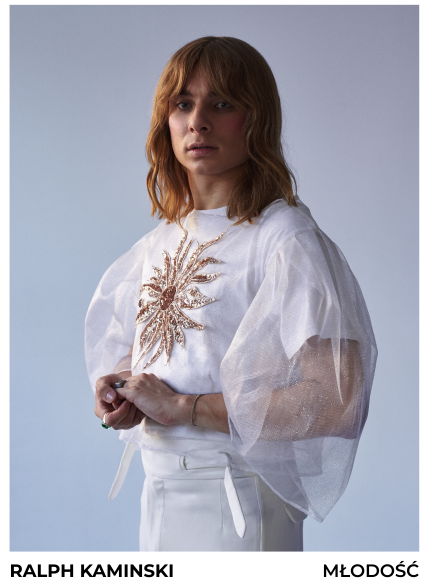 Clumsy British comparisons aside, his music could be described as a soundtrack to crying over things you never even wanted anyway, fighting for LGBT+ rights in Poland, looking at your high school Tumblr account late at night or (un)ironically playing the role of a Russian millionaire businesswoman in everyday life.
These are some of the things that, for me, make Ralph Kaminski. My favourite Polish musician.
Born in South-East Poland in 1990, Ralph spent his childhood loving and playing music. He played the violin, took vocal lessons and eventually decided to study music in higher education years later. In early 2010s, he auditioned for the Polish X-Factor but didn't make it past Bootcamp. He was later signed to an indie label FONOBO and… the rest is history.
I wanted to spare you long paragraphs of me paraphrasing Polish Wikipedia in order to focus on what matters the most here – albums. And oh boy – I really have a lot to say.
Through his first studio album era, Kaminski introduced himself to us as an artsy-fartsy hipster kid in Harry Potter glasses and an American-style varsity jacket. Just like Xavier Dolan of Polish indie pop, he treated his fans to highly-emotive music videos that often had a recurring cast of actors. Ahead of releasing his first album "Morze" (Sea), at one of the televised festivals, his music was described as a combination of alternative pop and film music. It was dramatic, cinematic and emotive. In his first single he sang: "Supposedly, that's what life is like – I can't force you to stay". Another one went: "I'll always, always love you. Even though you hurt me, kill me with your words". You get the point.
I spent the whole of 2015 and 2016 going to pretentious, Dolan-inspired house parties in the Jewish Quarter of Krakow. That was at the time when you could get your c*nt punched in for wearing skinny jeans in Poland, so as you can imagine, having someone with a similar vibe to look up to and listen to (especially when you're tragically in love) was very important.
"Jan" from the debut album was definitely one of the highlights. With his immaculate diction and a powerful collection of backing vocals, Kaminski proved to be a singer with a rare skill for using the Polish language. His layered production, often a combination of rich textures and organic sounds, was also simple and "live-like" at the same time. The following track on the debut LP, "Moj Sen o Warszawie" (My Dream about Warsaw) is yet another great example of that.
I thought: Okay. We have a fantastic, unique artist on our little music scene – someone with sensitivity. Lovely tunes too. I came to that conclusion and moved on with my life.
Fast forward a few years, it's 2021. Two years after Kaminski released his critically-acclaimed second album "Mlodosc" (Youth). I hadn't heard any of it at the time as I wasn't consuming any Polish music at all. Just the language + the fact Polish songs are usually much more poetic than English ones (sorry) reminded me of life I wanted to leave behind.
For nearly two years, I kept seeing the thumbnails of Kaminski's new music videos on YouTube but I persisted to ignore them. Until one day, I finally decided to listen to "Kosmiczne Energie" (Cosmic Energies) – the lead single off his second studio album "Mlodosc" (Youth).
I must have listened to the song at least 100 times that day. In just a few months, the song has managed to become my 8th most streamed song this year, and if we counted YouTube – it would probably be in Top 5.
The song is so… cosmic. The formula seems to be simple – rhythmic track, very easy to clap to, with not the most complicated chords ever but… so hypnotic, subtle, romantic and hopeful at the same time. To put it simply – it kicked me out of my fucking boots and I became obsessed.
It starts softly with a passage of delicate backing vocals… Then, unexpectedly and like an explosion – the church organ comes on and Ralph introduces his powerful and charismatic voice. In the song, he sings: "The words I'd like to say to you, I've been keeping deep inside of me since last summer. I probably won't ever tell you this, but I finally felt something after many, many years…". Later, in the chorus, things get delicate and soft again, comforting like a hug: "Cosmic energies, cosmoses, I'm sending you a dream. Over to your planet, far away, my meteorite is on its way".
For me, "Kosmiczne Energie" is a song about a crush we aren't compatible with. It's about dozing off late at night while thinking about someone who will never be ours. But not in an angry, Adele's 21 kind of way! It's rooting for someone, sending them your energy and enjoying what your brain has prepared for you.
As the title suggests, "Mlodosc" is an album inspired by Kaminski's melancholic memories from childhood and teenage years. Up-tempo "2009" confronts a long-gone, once powerful and life-changing relationship. It's closure. "Tygrys" (Tiger) is a display of vulnerability and intimacy. "Klub D" (The D Club) is one's conversation with and about depression, mental health and facing the very nature of your demons. "Tata" (Dad) is a painful and gut-wrenching letter to a dad who… I'll let you decide what.
This album era was significantly different from the previous one, visually. Vintage jeans and turtlenecks were replaced by custom-made white outfits, celestial capes and silver boots. A cropped skin-fade haircut was covered with a long, blond wig. On stage, Kaminski used inter-galactic props such as a full moon or a spaceship. All of this complimented the upbeat, hopeful nature of tracks such as "Kosmiczne Energie" or "Autobusy", at the same time adding atmosphere to more stripped down songs such as the title track.
Kaminski's "Mlodosc" is one of the best Polish popular music albums created in the last decade. It is ironic how for a long time, I ran away from Polish music thinking that my once-favourite artists would make me go to a place I wanted to leave behind. By listening to Kaminski's sophomore album I not only found closure and comfort, but also learned how to enjoy my favourite Polish artists' music once again.
Read my immigration story here