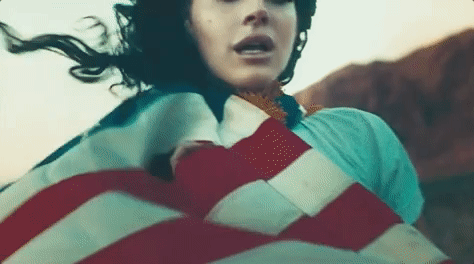 With the release of Lana Del Rey's sixth full-length, major label studio album Chemtrails Over The Country Club just around the corner, I decided to put together a subjective list of all her songs ranked from worst to best. Please note that the list only includes album tracks available for streaming in the United Kingdom, so songs such as: leaked and unreleased material, remixes, guest appearances, movie soundtracks and spoken word tracks, as well as music released under other names, such as Lana Del Ray, May Jailer, Lizzy Grant etc. are not included.
82. Coachella – Woodstock in My Mind
This last minute addition to Del Rey's 2017 album Lust for Life feels like it should have been a blog post. The generic beat doesn't help.
81. Swan Song
The track number 13 on the Honeymoon album does seem a little unlucky. It's too long, lyrically forgettable and comes across as forced.
80. Fucked My Way Up To the Top
One of the most controversial songs on the iconic Ultraviolence was never my cup of Earl Grey. The track's production doesn't match the melancholic, sad-rock vibe of the first few songs. It does deserve a few claps for the subject matter but everything else, from vocal production to annoying "go, go, go, go!" bits in the chorus is a disaster.
79. Blue Velvet
In 2012, Lana Del Rey covered this 1950s classic, which was later used in a haunting H&M commercial. Despite the lovely vocal performance, it will always be a cover from the fast fashion brand advert.
78. Florida Kilos
Too much sugar makes you sick. I will never understand why Florida Kilos is a fan favourite. It's a mess from start to finish. I love when Del Rey incorporates baby voice into her music, but not on this occasion…
77. Don't Let Me Be Misunderstood
Lana's version of the iconic Nina Simone song is lovely yet unadventurous.
76. Burning Desire
This Jaguar-commercial-song includes very low vocals and a fast beat, which is a good sound for Del Rey, generally. It does sound a bit generic, though, and becomes tiring after a few times.
75. The Other Woman
The Other Woman is Lana Del Rey's second-best cover that ever made it into her official discography, mostly thanks to the vocal performance and the vintage feel. It's also a cute way to end such an emotionally honest album.
74. Money Power Glory
Something happened in the middle of the Ultraviolence creative process that made Lana drop all the jazz and rock inspirations for the sake of these sad-core yet soapy Melanie Martinez/Pity Party tunes and I really don't get why…
73. This Is What Makes Us Girls
I mean, it's a lovely concept and I am aware of the story behind the song, but sonically it's not Lana's best.
72. Guns and Roses
I don't even care it's one of the most hated Lana songs. I love the drums at the beginning, I love the vocal arrangement, especially before the chorus kicks in. I agree, it's very simple both sonically and lyrically, but it still has a really good vibe to it.
71. Freak
Honeymoon was such an underrepresented album! And I've always thought it would have achieved more if its jazzy cuts were given more attention than this slightly monotonous tune.
70. In My Feelings
Another hip-hop-influenced track off Lust for Life that must have been super fun to make but not as interesting to listen to, at least not for me. The "I'm …. while I'm ….." lyrical pattern was super weak.
69. Is This Happiness
Is This Happiness is a perfect example of a bonus track done right. It doesn't overshadow the songs from the main tracklist, at the same time being interesting and adding to the listening experience. The piano background from the beginning is dead gorgeous!
68. American
Very cinematic, very visual, very lovely. It's a nice song, but "your skin so golden brown" and "you spin me 'round like a child" vibe doesn't really get me as hard as it used to.
67. White Mustang
And it all happened on the day she saw his White Mustang…
66. Art Deco
This song makes me feel like I'm drunk in the desert. Or stoned, standing on a roasting-hot balcony in Rome in the middle of summer.
65. Lucky Ones
An ode to a significant individual also seems like an ode to love itself, and I'm here for it. The fact that it feels like a sequel to Video Games makes me even more hyped.
64. Sad Girl
The most Lana Del Rey-like song title ever and one of the most recognizable moments off Ultraviolence.
63. Doin Time
On this track Lana managed to adjust the Sublime's classic into her Norman Fucking Rockwell aesthetic just about perfectly, and God bless her for that.
62. Tomorrow Never Came
The Sean Lennon duet used to be one of my favourites at the time of the album release. I must admit that three years later it does come across as a little underwhelming.
61. Radio
I tried and I tried and I tried so hard to keep this song as high as possible, but here it is. The iconic "now my life is sweet like cinnamon, like a fucking dream I'm living in" verse is one of my favourites. If I could play guitar or piano I'd play "Radio" every day.
60. God Bless America – And All the Beautiful Women In It
Lana's 2017 tribute to all the beautiful women of America is a true pop moment and one of the cutest choruses of her career. Bang Bang.
59. High By The Beach
I was there for it when it came out. I loved that it was summery, catchy and sassy. It's still probably the most famous song off Honeymoon and deserves its credit, nevertheless it's probably one of Lana's worst singles.
58. When The World Was At War We Kept Dancing
Lana wants to know what the fuck is up. I appreciate the concept and the lyrical rage. The subtle guitar in the background sounds dreamy…
57. Diet Mountain Dew
This was one of Lana's first songs as Lana Del Rey, after Video Games and Blue Jeans. It makes me feel nostalgic. It's sassy, it's sexy, I love it.
56. Beautiful People, Beautiful Problems
It's not easy to get Stevie Nicks on board. The ladies' voices sound magnificent together. It comes as a surprise to me that the lyrical content of the song was predominantly criticised. I thought it was a nice moment.
55. Get Free
The Radiohead plagiarism controversy aside, I adore the hidden tribute to late Amy Winehouse and Whitney Houston, present just before the first chorus. Out of the black, into the blue…
54. Without You
The Kiwi singer-songwriter Lorde criticised the song for its message and accused it for being damaging for young girls. The tragic world of Del Rey melancholia wouldn't be the same without this song in her catalogue though.
53. The Next Best American Record
NFR's weakest track had been floating around the internet for a long time before its official release in 2019. Every single time Lana shows one of her leaked songs some attention fans get crazy for it and this wasn't an exception!
52. Groupie Love
Lana's second official collaboration with A$AP Rocky has its charming moments, but after some time begins to sound too simple and Rocky's verse – forced.
51. Bel Air
This cinematic masterpiece is Lana Del Rey's glamour and romanticism at their best. Its visuals in the Tropico short-film deserve the highest marks.
50. Heroin
The emotional input that's on display here is amazing, as anyone who knows the story behind the song would understand… At the same time, sonically, it wasn't executed as well as it could.
49. Pretty When You Cry
"All the pretty stars shine for you my love, Am I the girl that you dream of?" sings Lana, with her voice initially accompanied only by the bare electric guitar. This allegedly improvised classic is one of her favourites to peform live.
48. Summer Bummer
Gangsta Nancy Sinatra comes back, with her pal Rocky by her side yet again. This badass duet is what we needed after the leak of the song Riding from around the Born To Die era. I'm OK with that though, no need for any more, Lana.
47. Love
Lust for Life's lead single low-key targeted the Gen-Z and their wet, Urban Outfitters dreams – kinda winning and failing both at the same time. It's definitely one of the most pop, optimistic moments.
46. 24
Another major motion-picture-like song with orchestral instrumentation in the background and a dramatic aura surrounding it. Feels great, satisfying, rich, yet a little pompous – in that good, polished Lana Del Rey way. Stunner.
45. The Blackest Day
One of the darkest, saddest tracks in Del Rey's discography. The undisputed queen of sad-core strikes again.
44. Cola
This controversial anthem has been abandoned by Del Rey and is no longer performed live during her concerts. That's because of the lyrics which reference the convicted predator ex Hollywood mogul.
43. Religion
On this heartfelt Honeymoon track, Lana explores the themes of unconditional love.
42. Carmen
It used to be a fan favourite back in 2012 and it's a shame it's no longer performed as it was one of Lana's lyrically best at the time.
41. Dark Paradise
Another controversial track, mostly due to its raw and vulnerable lyrics
40. Love Song
Norman Fucking Rockwell's strongest points are the lyrics and Jack Antonoff's production. On this track, the duo decided to focus on the vocals and make the instrumental more low-key.
39. 13 Beaches
13 Beaches served as an opening track on the LA To The Moon Tour setlist and its spoken intro made it a perfect choice.
38. Old Money
This heart-breaking ballad from Ultraviolence is one of the simplest yet the most powerful lyrical moments on the album.
37. Cherry
The sexy Lana is in the house on this one and she is on fire! Extra points for blending this one with the iconic "Scarborough Fair" during the live shows.
36. Lolita
Speaking of the sexy Lana, this bonus track from the Born To Die album is one of the sassiest songs in Del Rey's catalogue and we all love it!
35. Brooklyn Baby
On this hazy dream-pop ballad, Del Rey paints a picture of a hipster girl who loves music, getting high and brags about her musician boyfriend.
34. Lust for Life
The title track off Lana's fourth album is the first ever official collaboration in her discography. "My boyfriend is back and he's cooler than ever" is one of my favourite Lana Del Rey lyrics of all time.
33. Bartender
One of Lana's favourites is about the singer's fame and how it affects certain aspects of her life, such as dating.
32. Salvatore
The one and only Adele said in an interview that the chorus of Salvatore makes her feel like she's flying, and to be honest – girl, same. Bring me a soft ice cream now.
31. Happiness is a butterfly
"If he's a serial killer, then what's the worst that can happen to a girl that's already hurt?" is one of the strongest lyrics on the NFR! album.
30. Fuck it, I love you
Every NFR! song deserves an award for something, without a doubt. This one works very well with a rock ballad The Greatest in a joint music video. The upbeat bridge is my favourite part.
29. National Anthem
On this hip-hop-influenced track Lana explores the themes of wealth and hopeless romanticism. The video for the song is one of Del Rey's most iconic to date, featuring A$AP Rocky as John. F. Kennedy.
28. Yayo
Yayo is one of Lana's oldest songs and is about the same man she later wrote about on 2017's Heroin. The difference is, this one just does it better.
27. Summertime Sadness
This later slaughtered with a popular remix song established Del Rey as the queen of tragic summer.
26. Body Electric
Included in her Tropico short film, Body Electric references Jesus, Marilyn Monroe and Elvis Presley.
25. Hope is a dangerous thing for a woman like me to have – but I have it
This piano ballad was originally called "Sylvia Plath" but the artist changed the title last minute. It was first performed at the NFR! Hollywood Bowl show and Del Rey described the feeling of performing it as strange. It does feel incredibly intimate to be fair.
24. How to Disappear
One of my favourite songs off NFR! and a beautiful showcase of Del Rey's songwriting abilities put together with wonderful production from Jack Antonoff.
23. Million Dollar Man
The critics were divided about the vocals on this one, but for me this was always Lana's best – lyrically, vocally and artistically. I love the theme of money on this one and the wordplay with terms broken and broke.
22. Music To Watch Boys To
The production on this song is out of this world and makes it one of Honeymoon's strongest moments. I love the playful lyrics and the dreamy sound of the intro.
21. Off To The Races
This track is definitely one of Del Rey's most iconic upbeat songs. It was even covered by Kelly Clarkson on numerous occasions.
20. Cinnamon Girl
At the time of NFR!'s release Cinnamon Girl was bloggers' and YouTubers' favourite thanks to its minimalistic and truly sad-core vibe. Some of the reactions to the song went viral on social media and bruh – no doubts why.
19. God Knows I Tried
Whatever Lana decided to do in order to make Honeymoon sound like an Italian gangsta-romance indie-film she should do it again. This song is a masterpiece and the opening lines always get me emotional.
18. Black Beauty
The process of creating this list is starting to get harder and harder now that's we're down to under twenty best tracks… And this is definitely one of them, as it captures Lana's romantic spirit just perfectly.
17. California
California is one of those songs that will make you stare at the window for five minutes and forget about the world around you. And that's what I love about Lana's music.
16. Change
This beautiful piano ballad deals with the subjects of self-worth and self-doubt beautifully. It's one of the best ballads in Del Rey's discography and another fan favourite.
15. Norman Fucking Rockwell
I can't even describe how happy I was when Lana received a Grammy nomination for this song! "Goddamn, man-child….. You fucked me so good that I almost said I love you" must be one of the best song openers in pop music history, for sure!
14. Cruel World
I appear to have a thing for album openers. Or maybe I can just see the signals the artists send our way when they decide to open an album with a particular song? Anyway, this angry rock anthem is exactly what Ultraviolence deserves as its first track.
13. West Coast
The guitar riffs at the beginning of the chorus make me feel like I'm high. No other song makes me feel like that, at least not in that particular way.
12. Ultraviolence
Lana Del Rey's Ultraviolence is a cultural phenomenon. It proves that the world isn't black and white. If you know, you know.
11. Honeymoon
The strings that open the song sound angelic. Definitely one of my all time favourites.
10. Shades of Cool
The emotional honesty and the atmosphere surrounding this track is second to none. Everything from the vocals to the jazzy arrangement is absolutely perfect. Who even writes lyrics like that?! Oh man!
9. Mariners Apartment Complex
NFR!'s second single is powerful, reassuring and intelligent. Even Anthony Fantano called it Lana's best song to date.
8. Born to Die
One of the most iconic and popular songs and titles of the 2010s is a lyrical journey that made most of its participants into travellers for life. Hearing the intro to Born to Die at the end of Xavier Dolan's film Mommy was one of the best moments of my life.
7. Blue Jeans
The tragic story of a girl that, perhaps, loved a little too much made the audiences fall in love with the Gangsta Nancy Sinatra instantly.
6. Gods and Monsters
This track is a dark tale, a masterpiece that references pop culture icons such as Jim Morrison in a typical Del Rey fashion. Still one of Lana's most emotionally honest and impactful songs. It's addictive, engaging and simply brilliant.
5. The Greatest
Named best new music by Pitchfork, a publication that has much more history of criticising Del Rey rather than praising her work, The Greatest is a perfect summary of our generation and the madness we all found ourselves in, especially this year. "Kanye West is blonde and gone, life on mars ain't just a song…"
4. Terrence Loves You
This Honeymoon jazz-inspired ballad has been my favourite since the day the album came out. When I heard it for the first time, I knew I found a perfect Lana Del Rey song.
3. Ride
This melancholic, musical odyssey was the first big project to make industry professionals fall in love with Del Rey as much as the fans did. The music video for this song is a source of some of the most popular lanaisms ever, such as "live fast, die young" or "I am fucking crazy but I am free".
2. Video Games
Here it is: the song that catapulted Lana Del Rey to international superstardom. The ultimate love song. The ultimate ballad. A track covered by hundreds of artists including Boy George and Tom Odell, just to name a couple. Q Magazine's song of the decade. My song of the decade.
Venice Bitch
I decided to choose Venice Bitch as Lana Del Rey's best song. She usually ends her set with this 10-minute, complex collection of moods, thoughts and observations. How something as pure and simple as "fresh out of fucks forever" or "I dream in jeans and leather" can be so brilliant – I don't know. The vocal melodies in the pre-chorus stole my heart and I still haven't got it back. It just explodes into this nuclear storm of sounds, energy, it's so anthemic and so spectacular it could close a show at Wembley for 90 000 people. "Signing off, bang bang, kiss kiss."
Thank you so much for reading! Feel free to visit the main page of my blog by clicking HERE.